I can't tell you how many times a client has asked me why a competitor is "outranking" them for a keyword.
If I had the actual answer to that question…well I certainly wouldn't be spending my Saturday afternoon blogging 😩.
Analyzing your competitor's SEO is important – but it's more important not to obsess it.
There's so many algorithmic factors that we can't see (or know about), it's impossible to answer that question. You can waste a lot of time and resources trying to reverse engineer success.
With that being said, we still want to analyze the competitive landscape.
In order to create the right way ahead for an SEO campaign, it's important to understand what the algorithm deems as a "good result" for your target keywords.
This guide will include:
How we run our competitive analysis audits for our clients
The template we use to gather data
A bonus reporting template we use to present our findings
How to find your [SEO] competition
You probably know who your competition is off the top of your head – that doesn't mean they're a competitor from an SEO perspective.
We need to find websites who occupy attainable SERP real estate as the keyword level – aka the ones you're competing against for organic exposure in Google.
I like to do this in a quick 2 step process…
a. Use SEMRush to find competitors based on keywords in common
Drop your URL into SEMRush's Competitors report and it will display website's ranking for the same keywords as you.
(NOTE: you can use Ahrefs as well).
This chart gives us a list of competitors and the SERP real estate they occupy. This gives you insights into which websites are within striking distance vs which are a long term SEO play (i.e. if Nike is a competitor of yours, realistically understanding how long it will take to get their results).
You can also use this chart to find target keywords for your campaign. Once you have a few of them, we can move on to the next part…
b. Use Google Search + MozBar
A simple Google search for those target keywords will turn up websites the algorithm believes are best. These sites should be included in the conversation of your "SEO competition".
We can also layer on the MozBar, a free browser plugin, to give us deeper insights into the SERP results.
For example:
The PA (or Page Authority) of the result. PA is a metric that Moz developed to tell you how authoritative a page is. The higher the PA, the harder it is to outrank it.
The DA (or Domain Authority) of the result.  PA looks at the specific page result – DA looks at the entire domain. DA is a solid metric to understand the overall ranking power of an entire website. You should be comparing your DA / PA to the top results to see how you measure up.
Number of links and referring domains to that particular page. Generally speaking, the more the links the harder that result will be to outrank.
These 2 tactics should give you a small list of sites that are your "SEO competition". I like to pick 3 of them to analyze using our competitive analysis template.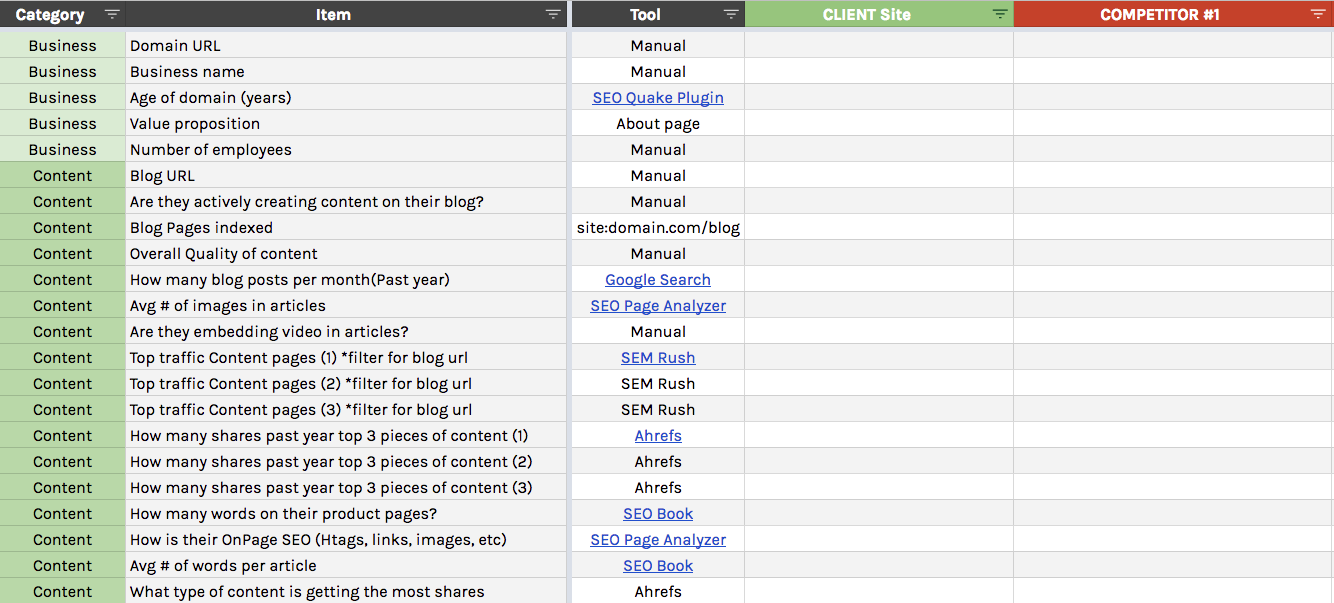 How to analyze your SEO competition
With a list of 3 competitors, I follow a 9 step process to analyze them.
1. Understand a competitor's site build by crawling it
We use DeepCrawl, but Screaming Frog and SiteBulb are both awesome tools as well. A site crawl tells us a ton of information about a website:
An overview of their website's architecture and setup
Full view of all the pages on their site
Title tags, meta tags and other "on page" elements
If you're a beginner to SEO, this is a somewhat technically advanced tactic. Generally speaking, a site crawl is more effective when you're looking for deeper, actionable insights, as it helps turn over technical issues a website has.
2. Find the number of indexed pages
Go to Google Search and type in -> site:competitor.com. This will pull back the number of pages that Google is indexing on that site.
This tells you a number of things:
How much content / type of content they have on their site
A high level overview of how Google is indexing their website (in comparison to yours)
A high level overview of the authority and indexation power that site has
The size of their website in comparison to yours. This can give you an idea of the depth you need to build out on your site
Try and dig a little deeper here based on your vertical. For example, if you're an ecommerce store, you'll want to know how many products your competitors have.
Click around their site to find out if they're using a subfolder architecture for products, then repeat the Google search.
You can use this tactic on a number of verticals, it helps you understand the depth of their online revenue model and any gaps in your offerings.
3. Assess their keyword rankings
It's important to reverse engineer the keywords your competitors are using to drive the most traffic to their site. SEMRush is a great tool to do this, but there are others like Ahrefs and Moz that also give you a website's top keywords by search volume. If you only want to pick one, check out our post on Ahrefs vs SEMrush vs Moz to get the lowdown on our current favorite.
Spying on the competition can give you great insight into new keywords to add to your site, as well as improvement opportunities for existing pages.
4. Dig deep into their top performing organic pages
SEMRush (and Ahrefs) will also tell you the top pages based on number of keywords ranking. This gives you incredibly insights into a few things:
Finding additional keywords for pages
Finding keywords for content creation
Visiting those pages manually and deconstructing their on page elements to understand how they're ranking for so many keywords
Using this information you can break down the value of pages on a competitor's website, and the potential to steal that value for yours. This also gives you the starting place for a keyword gap analysis, to understand where your website falls short in comparison to competitors.
5. What "type" of content is driving organic traffic?
Looking at the same "pages" report, you can understand the type of content your competitors are using to drive so much traffic.
Blog posts
Resource guides
Product / service pages
Understanding page type helps you understand the value of their traffic. For example, if a large majority of their traffic is going to pages with low purchase intent, they aren't getting much value from that traffic. You want to analyze websites with both great content and sales pages to understand the full scope of pages you need on your site.
6. Quality of content / "On Page" optimizations
Looking at the top pages in SEMRush of Ahrefs, visit some of them to review them manually:
How many words are on the page?
Are they using images? Video?
How good is the content (i.e. well written, informative, in depth, etc)?
How are they optimizing their page titles? Subheadings?
Is the site / page visually appealing?
What type of call to actions are they using on their pages?
Are they using internal links?
Are they using external links?
Even with the advancements in SEO tools in the market, there's still a need for manual review to really dig into the quality of your competitors.
7. Assess the power of their backlink profile
I like to link at links at the page level as opposed to domain level. It's a lot easier to digest and you can derive far better insight for the types of links that are working in your industry.
For backlinks analysis, we use Ahrefs, a paid tool that's well worth the cost (if you're a serious SEO). We look at the "Backlinks" report, filtered for "One Link Per Domain" and "DOFOLLOW" only.
From there, you can do a quick analysis:
What types of links are these pages getting (i.e. Huffington Post press mentions, forum comments, directory spam, blogger reviews, etc). This tells you a lot about the types of links you need to target for your pages.
How often are these pages getting links (i.e. link velocity)? When we get to building links to your site, we want to create a natural pattern. We determine what's "natural" based on the acquisition patterns of your competitors.
Are there opportunities for you to steal the links? With a little extra digging, you can find out if you can score the link for your site too.
When you're first beginning the campaign, this information helps you to understand how competitive the industry is. As we move on, this information will become valuable when we begin the link acquisition phase of your campaign.
8. Dissect their "branded search" profile
Branded search means the number of times a Google user searches for your company's name or product. This is a HUGE indicator of quality to search engines, one that most SEO professionals overlook.
Branded search comes from a number of places:
General market awareness and reach
Offline advertisements (TV, radio, print, etc)
Online advertisements (influencers, video views, social ads, etc)
I like to use Ahrefs Keyword Explorer to uncover the data.
It not only gives me an accurate search volume for the brand's main keywords, but other semantic ones as well.
This helps you complete the picture for the popularity of a brand overall and their specific products.
Reporting on Your Competitor Analysis
We record all of our findings in a Google Sheets template that tracks our site vs. 3 competitors. You can grab it for free here.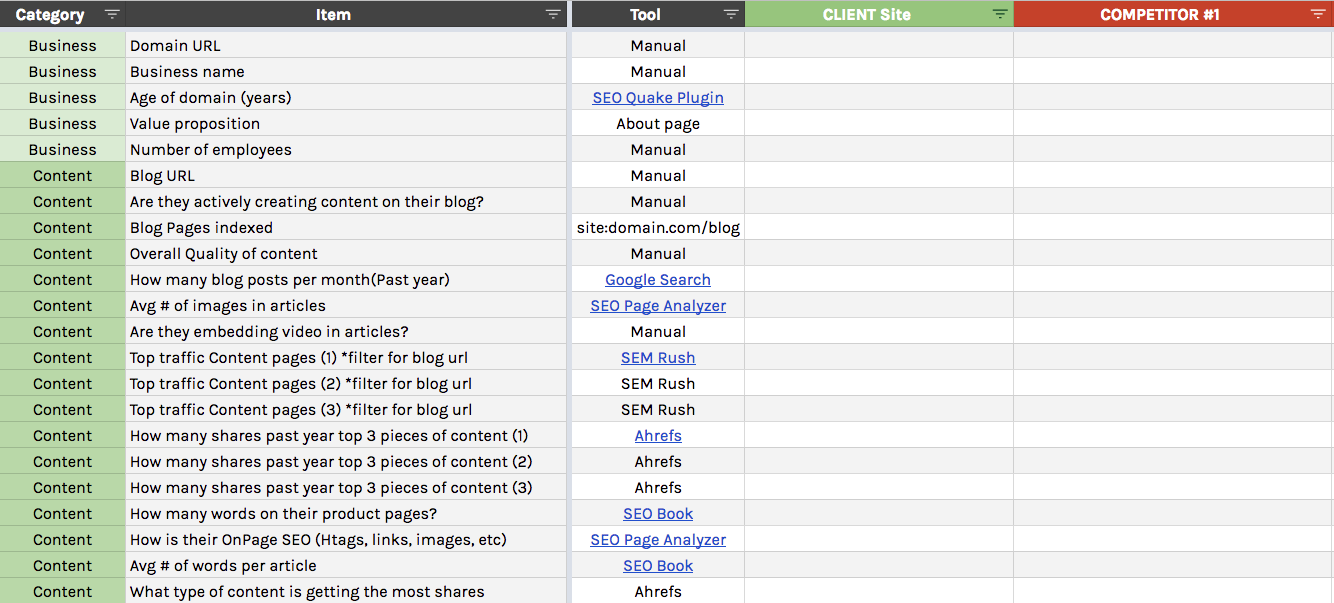 It's not enough to just have this data though, your money is made in the analysis. We spend a lot of time internally reviewing the data and building actionable insights from it.
A few examples:
Understanding how much content you should create
Understanding how many links you'll need to acquire
Understanding if you should alter pricing, play with coupons, free giveaways, etc
Understanding how long you'll need to invest in solid SEO to overtake competitors (THIS IS KEY)
It's difficult to read spreadsheets – if you're working with a client or internal leadership team, this information is better suited in a slide deck with visualizations to aid in your findings. If you need one, check out our SEO proposal sample. It's proven to be effective, and you can even grab a free copy there.
Detailed analysis should be pushed into the execution phase of your campaign. Our team does so by keeping a simple matrix in Google Sheets that has all of our findings, ready to be added to a client's project plan.
If you're using our project management system, we record our notes in the "Actions" tab. That way we can review internally and build an action plan based on our findings.
It's not much, but it ensures we're taking these insights and pushing them into our client's individual project plans for execution in the future.
As mentioned, it's important to understand your competitors, but not obsess over them. There's so many factors that we humans can't see, you can drive yourself crazy trying to deconstruct a competitor's website.
Understand the competitive landscape, but focus mainly on your site – all the pieces will fall into place.